15 minutes by car from Naha Airport. 3 minutes on foot from Makishi Station. About a 4 minute-walk to Kokusai-dori street, downtown Naha. 2 minute-walk to a supermarket. museum Duty-free shop・ Shopping center・ Tomari Port is also within walking distance. Favorable location for tour, work, or long stay. Price is reasonable because we want many people to come and enjoy.

We have many western style rooms suitable for 2~4 persons and Japanese-style rooms perfect for families. Semi-Western style room Single rooms are available for persons traveling alone or on business. Functional equipment facilities with free connection for internet and LAN cable. We make your stay satisfying filled with service from the heart.
| | | |
| --- | --- | --- |
| | | |
| Bright and clean room. Pro-functionality rooms are best for traveling alone or business. | Best for trips with couples and friends. | The three-bed-rooms with a large window are bright and popular among families or groups. |
| | | |
| Large Japanese-rooms are few in Naha City and popular among families or groups. | Rooms with two beds and a Japanese room accommodates children and babies safely. | Large rooms with a maximum capacity of six are best for families and groups. |



Inside the hotel, there are restaurants, shops and on the top floor, we have a free large bath which is rare in Okinawa.


The large bath appears to be a hot spring Ryokan (Japanese-style hotel) and perfect for relaxation. Feel refreshed in mind and body.
Hours for Bathing 6:00 – 9:00 17:00 – 24:00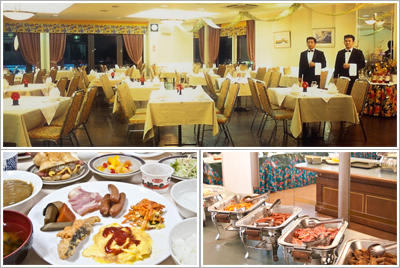 Selected tastes will meet with a favorable reception You can taste fresh ingredients in your own menu. Finding out about the unique Okinawan taste is also one of the tour delights. Please enjoy many specialties of the chef.
◆Breakfast: Buffet 7:00 – 9:30
◆Dinner: Reservation only 17:00 – 22:00


Large tatami mat rooms have a large capacity Please sing along with Karaoke and enjoy a memorable time.
■sango(B1F) Capacity:80persons
■haibisukasu(2F) Capacity:40persons
■asagi(3F) Capacity:40persons
■kafu(2F) Capacity:20persons



You can check in leisurely in a fully lighted large lobby. All our employees serve you with a warm Okinawan manner.


Sells mainly souvenirs such as confectionary, clothing etc.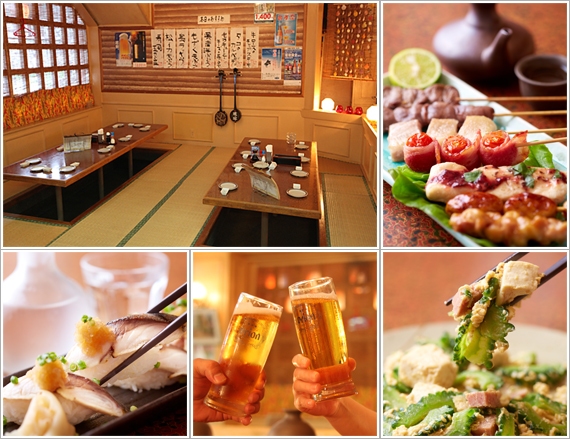 Izakaya pub Misachi is located in this hotel. There are two entrances. One is inside the hotel and the other one is facingthe street. Many delicious creative dishes are ready for you. Children can also safely use the seats set up around Hori-Gotatsu, moated heater, in the expansive tatami mat room. Counter seats are also available for the persons without company can visit freely. Music in Izakaya pub is played with Sanshin, an Okinawan three-stringed musical instrument and Min-you folk songs. Drinking pace will be quickened with Awamori, Okinawan spirits. Private rooms are set up within the hotel.
Business Hours: 17:00 – 24:00







Your favorite pet is a member of our family. Travel also with your pet, because you always want to be with your pet. Recommended to such a person. You can stay with your pets in this hotel. If you want to travel, but worry leaving your pet at home, then please use this hotel. We have many western style rooms suitable for 2~4 persons, Japanese-style rooms, and semi-Western style rooms. All the rooms are available for persons accompanied with pets.Please put your pet in a cage when maneuvering in the hotel. Free of charge for pets' accommodation if accompanied by the owner. Limited to small animals that can be fitted in a cage such as dogs, cats roughly less than 10 kilograms. Need consultation for details. In case of damaged properties such as braking movables or dirtying rooms we may charge you for the repair and cleaning.


Accommodation with pets requires reservation. Please make sure to inform us at the time of reservation that you will stay with pets.




■Sougenji-koen Park
Citizen's relaxation space, Sougenji-koen Park is located next to the hotel. Expansive lawn space will surely make your pet very happy.

■Tomari pet shop
Within a five-minute walking distance. You can purchase pet food and small articles at the shop. They also have a pet hotel.

■Makishi Veterinary clinic
There is a veterinary clinic within a ten-minute walking distance. Feel assured even for emergencies of your pets. Let's go on a trip now!


From Makishi station, advance toward the direction of Miebashi, turn right in front of Max Value, then turn left at the crossroad. The hotel is located next to Soogen-ji stone gate.
◆The location is convenient for tour, business and shopping.
16 minutes from Naha Airport by mono-rail. 3 minutes on foot from Makishi Station. Approx. 20 minutes by car from Naha Airport. Easy to access location Historical stone structure of Soogen-ji is located next to this hotel. Urban style hotel located near downtown Naha, Kokusai-dori street is convenient for business and tours. Daily necessities are available at supermarkets, department stores etc. within walking distance. Convenient for long stays too. Shuri-jo castle, municipally-run market, Yachimun(pottery)-doori street, duty free shop are within 10 minutes by car. Perfect location for tour and shopping.

Credit cards are accepted for accommodation payments.